January 18, 2012 -
Content has been blacked out in protest of SOPA and PIPA.
Please take a moment and use the form below to write to your congressmen and women and tell them you oppose SOPA and PIPA. Feel free to modify the letter content to reflect your own thoughts and feelings.
TAKE ACTION NOW!
LEGAL NOTICE: The source information originally provided by Fight for the Future has been edited/amended for this blog post in order to personalize it for my website and add a number of links. To see the original format, look here.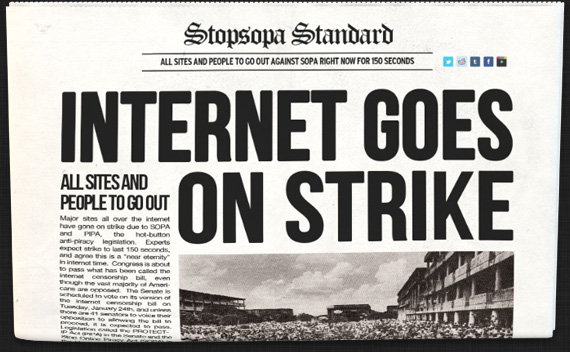 Today, we are striking against censorship.
Join the largest online protest in history:

Tell Congress to stop this bill now!
SEE WHAT MAJOR WEBSITES ARE SAYING ABOUT SOPA & PIPA:
Fight for the Future
is a non-profit organization fighting for people's freedoms in a new digital age.